Super 74 – Randy Rhoads Alnico 3 Humbucker pickup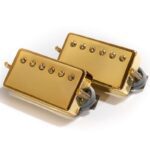 Super 74 – Randy Rhoads Alnico 3 Humbucker pickup
The Alnico 4 "Arena 70" humbucker is a tribute to all those legendary rock / hard bands from the 70's and the crowded stadiums they filled back then. For those who want finesse and power at the same time with a touch of vintage. Configurable according to your wishes.
Electric guitar pickups, Humbucker pickups

Our Custom Bucker is a replica of the pickup of the same name, fitted to Gibson's Custom Shop models. Equipped with an Alnico 3 magnet and a muscular coil for a PAF, it has a strong vintage character and an excellent dynamic. This is an ideal pickup for Jazz, Memphis Blues, British Blues, Hard Blues, Classic Rock, Southern Rock and Hard Rock. Configurable according to your wishes

139,00

€

– 335,00

€

Electric guitar pickups, Humbucker pickups

A versatile pickup designed for semi-hollow and Les Paul guitars. For those who want a dynamic and open sounding pickup, in a vintage register, to play Jazz, Blues, Funk, Soul or Classic Rock. Configurable according to your wishes

119,00

€

– 315,00

€
If there is a list of legendary guitars, the Randy Rhoads turned cream white Les Paul Custom is in the top 5. This was the 1st guitar he was identified with, donated by the members of Quiet Riots. She followed him throughout his career. It was a Les Paul Custom from 1974, then fitted with T-Buckers, the new version of Gibson's PAFs. Most of these T-Buckers were fitted with Alnico 5s and only a few models were fitted with Alnico 3s including Randy's. The sound was then mellow and open for the neck pickup while supporting saturation well. The bridge pickup, nervous enough to play all styles (Randy Rhoads was not known for playing Blues), became pleasant with singing highs, unlike the Alnico 5 version.
Gibson's Super Humbucker
Our set takes the exact characteristics of the reissue that Gibson's Custom shop produced in 2010: the Les Paul Custom 74 Randy Rhoads. The neck pickup is 7.4 kohms and the bridge 7.6 kohms. They both benefit from a slightly asymmetrical coil, which widens the frequency range picked up by the pickup. This handwound model is made, like all our pickups, with the best components available on the market.
Neck, bridge or 2 pickups set
Alnico 3 magnet
42 AWG Plain Enamel

The "Plain Enamel" is the coating of the copper wire used by Gibson from the 40's to the 60's. Became rare, because only used for the reproduction of vintage pickups, it is extremely expensive.

or Polyester

As for the "Polyester" coated wire, it is a standard wire used throughout the electronics industry (transformer, electric motor, etc.). The impact of the coating on the sound is marginal, or even nonexistent.

Butyrate plastic coil for 49.2mm spacing (Vintage Gibson) or ABS for 50mm – 52mm spacing, modern version
Resistance : Neck ~7.4 kohms | Bridge ~7.6 kohms
Set NOT wax-potted for the butyrate coil version and wax-potted for the ABS coil version
Spacing of screws and slugs from E to E : 49.2mm (butyrate) or 50mm and 52mm (ABS)
Supplied with 2 mounting screws and 2 springs per pickups
35/38cm wire length per pickups
Available bobbins color: black, cream, white zebra and reverse zebra
Raw Nickel/Silver, Nickel platted, Cosmo Black or Gold cover in option
---
Music styles
Blues, Rock, Classic Rock, Hard rock, 80's Heavy Metal
---