Custom Bucker – Alnico 3 PAF Humbucker pickup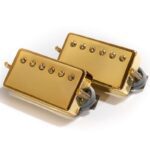 Custom Bucker – Alnico 3 PAF Humbucker pickup
Our Custom Bucker is a replica of the pickup of the same name, fitted to Gibson's Custom Shop models. Equipped with an Alnico 3 magnet and a muscular coil for a PAF, it has a strong vintage character and an excellent dynamic. This is an ideal pickup for Jazz, Memphis Blues, British Blues, Hard Blues, Classic Rock, Southern Rock and Hard Rock. Configurable according to your wishes
Electric guitar pickups, Humbucker pickups

A versatile pickup designed for semi-hollow and Les Paul guitars. For those who want a dynamic and open sounding pickup, in a vintage register, to play Jazz, Blues, Funk, Soul or Classic Rock. Configurable according to your wishes

99,00

€

– 295,00

€

Demo set – Delta Roots – Alnico 3 – PAF Humbucker pickups set

Uncategorized

189,00

€

– 209,00

€
This Custom bucker Alnico 3 pickup set replicates the Gibson Custom Bucker pickup. These pickups are installed on the historic replicas made by the Gibson custom shop. Far from being a mere copy, this is an improved, hand-wound version with more dynamics and resonance than the original. The Alnico 3, combined with a more muscular winding for a PAF, will provide just the right amount of medium to give a real vintage character to your sound without losing definition. The winding here is slightly denser than on a traditional PAF to compensate for the low power of the Alnico 3 magnet. This Custom Bucker delivers a thicker and slightly more powerful sound than the "Delta Roots". The result is still as harsh, with good definition, excellent sustain and a strong character. This set is perfect for Jazz, Memphis Blues, British Blues, Hard Blues, Classic Rock, Southern Rock and Hard Rock.
Custom Bucker – Neck – Clean sound
Neck, bridge or 2 pickups set
Alnico 3 magnet
42 AWG Plain Enamel

The "Plain Enamel" is the coating of the copper wire used by Gibson from the 40's to the 60's. Became rare, because only used for the reproduction of vintage pickups, it is extremely expensive.

or Polyester

As for the "Polyester" coated wire, it is a standard wire used throughout the electronics industry (transformer, electric motor, etc.). The impact of the coating on the sound is marginal, or even nonexistent.

Butyrate plastic coil for 49.2mm spacing (Vintage Gibson) or ABS for 50mm – 52mm spacing, modern version
Resistance : Neck ~8 kohms | Bridge ~8.5 kohms
Set NOT wax-potted for the butyrate coil version and wax-potted for the ABS coil version
Spacing of screws and slugs from E to E : 49.2mm (butyrate) or 50mm and 52mm (ABS)
Supplied with 2 mounting screws and 2 springs per pickups
35/38cm wire length per pickups
Available bobbins color: black, cream, zebra and reverse zebra
Raw Nickel/Silver, Nickel platted, Cosmo Black, Matt Black, Gold or Relic cover in option
---
Our clients talk about it
Yves, Custom Bucker, Skinner Burst option

High quality and handcrafted pickups. A craftsman who listens and provides good advice. It's really perfect, it's Cecca that I would call on from now on for any pickup changes on my guitars. A big thank you.
---
Music styles
Jazz, Blues, Funk, Soul, Pop, Rock, Classic Rock, Hard rock
---