The King – Alnico 2 PAF Humbucker pickup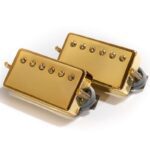 The King – Alnico 2 PAF Humbucker pickup
A versatile pickup designed for semi-hollow and Les Paul guitars. For those who want a dynamic and open sounding pickup, in a vintage register, to play Jazz, Blues, Funk, Soul or Classic Rock. Configurable according to your wishes
Electric guitar pickups, Humbucker pickups

A versatile pickup designed for semi-hollow and Les Paul guitars. For those who want a dynamic and open sounding pickup, in a vintage register, to play Jazz, Blues, Funk, Soul or Classic Rock. Configurable according to your wishes

119,00

€

– 315,00

€

Electric guitar pickups, Humbucker pickups

Our Custom Bucker is a replica of the pickup of the same name, fitted to Gibson's Custom Shop models. Equipped with an Alnico 3 magnet and a muscular coil for a PAF, it has a strong vintage character and an excellent dynamic. This is an ideal pickup for Jazz, Memphis Blues, British Blues, Hard Blues, Classic Rock, Southern Rock and Hard Rock. Configurable according to your wishes

139,00

€

– 335,00

€
The king of what? Of The Blues of course! If you only play Blues and nothing but Blues, this Alnico 2 humbucker pickup is for you. The bridge pickup is reasonably powerful, so as to bring out your solos. On the other side, the neck is round and open sounding with more dynamic. The Alnico 2 magnet provides true vintage character with a higher output level than the Alnico 3 and slightly less than the Alnico 4. It will be very comfortable on an ES-335 and its different lines, bringing warmth and roundness. If you want to play a little more than blues, you will be able to go on CLassic ROck and hard rock territories without problem.
Neck, bridge or 2 pickups set
Alnico 2 magnet
42 AWG Plain Enamel

The "Plain Enamel" is the coating of the copper wire used by Gibson from the 40's to the 60's. Became rare, because only used for the reproduction of vintage pickups, it is extremely expensive.

or Polyester

As for the "Polyester" coated wire, it is a standard wire used throughout the electronics industry (transformer, electric motor, etc.). The impact of the coating on the sound is marginal, or even nonexistent.

Butyrate plastic coil for 49.2mm spacing (Vintage Gibson) or ABS for 50mm – 52mm spacing, modern version
Resistance: Neck ~7.4 kohms | Bridge ~7.9 kohms (+-10%)
Set NOT wax-potted (butyrate does not support it, other configuration on demand)
Set NOT wax-potted for the butyrate coil version and wax-potted for the ABS coil version
Spacing of screws and slugs from E to E : 49.2mm (butyrate) or 50mm and 52mm (ABS)
Supplied with 2 mounting screws and 2 springs per pickups
35/38cm wire length per pickups
Available bobbins color: black, cream, zebra and reverse zebra
Raw Nickel/Silver, Nickel platted, Cosmo Black or Gold cover in option
Handmade with high quality parts
---
Music styles
Jazz, Blues, Soul, Rythm'n Blues, Classic Rock, Rock, Hard rock
---
Only logged in customers who have purchased this product may leave a review.