On the occasion of the imminent release of the new Jerry T. and the Black Alligators Album, we have the great pleasure to welcome Jerry T., guitarist and lead singer of this true 100% pure Blues band. He kindly agreed to answer a few questions, about the group, its projects, the music, its instruments, life.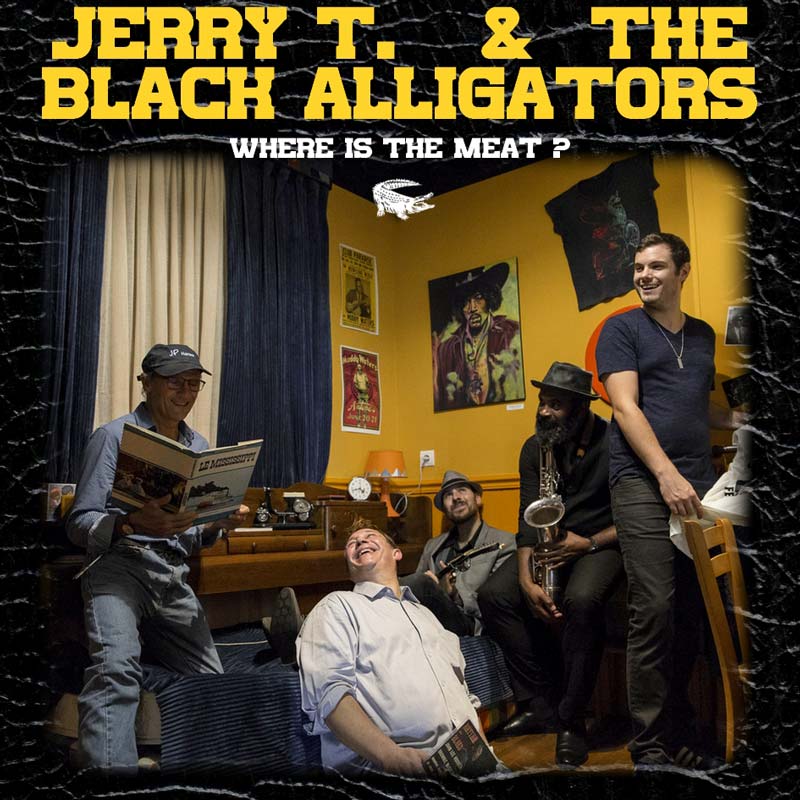 Where is the meat ?
What is striking about listening to Jerry T. and the Black alligators' latest album, "Where is the meat? "It's not so much the variety, the diversity of Blues packed into one record. This is indeed a recipe that the band has accustomed us to throughout their 3 previous albums. No, what is striking is the mastery with which all these styles are arranged, performed and recorded. The orchestration is perfect, the "brass" Sax / harmonica section works wonderfully and Jerry's solos with his Queen T., an ES-335 from the Custom Shop, are an absolute bliss. Any self-respecting guitarist, one who loves the blues in particular, will appreciate the variety of guitar sounds throughout this album and the ease with which Jerry switches from one to the other. From acoustic blues, to the Chicago club, from Memphis to the wetness of the bayou, Jerry T. and his Alligators treat us to all the Blues with undisguised pleasure.
This is the most important feeling I want to share. The Sensation grabbed me from the album in hand: this pleasure of doing things together, of having fun and of sharing. The good mood and the pleasure that the musicians have in playing together is noticeable right from the album cover. In this period of confinement where doing things together is prohibited, remembering that it is important, precious and enjoyable, it is vital!
We met Jerry when he knocked on our store door (note: by email, our store is online only 😊). We made him a set of Manhattan's 59, a replica of the famous MHS from Gibson's Custom shop, for his flying V, a spare guitar on stage. It's even thanks to Jerry that these pups are in the catalog today. He gave us the gift of a wonderful video where he presents the pickups, his Flying V plugged into a Val Martins Princeton '55 for a pure blues sound. Back to the roots!
Q: The adventure of Jerry T. and the Black Alligators began in 2014 and already has 4 albums to his name. But for Jerry, the guitar and the blues, how did it start?
Jerry T .: Ooh, what a question! The Blues is all about love! If I have to remind myself how it started … I must necessarily begin with when I started playing guitar. I started late! At 20 years. I was a fan of Rock and Metal at the time. Born in 1987, I lived the heyday of Nu Metal. It was then my gateway to a lot of groups considered "vintage". From Deftones, Korn, to System Of a Down, I then discovered the Iron Maiden, AC / DC, Ozzy Osbourne. First, a discovery of pieces with a predominance of the solo guitar.
 "The Blues is the Root, Everything Else is the Fruit" – Willie Dixon
Then I went on with AC / DC, Jack White, and Ozzy became Black Sabbath, Led Zep, and The Who. Led Zep & Co became Buddy Guy, Howlin 'Wolf, Jimi Hendrix and Muddy Waters. And there, everything changed for me. This journey through music and instrument, from inspiration to inspiration, brought me back to the roots of everything Rock, Rock n 'Roll, Pop etc. As Willie Dixon (one of the greatest songwriters of the Blues) says: "The Blues is the Root, Everything Else is the Fruit", in short, the Blues is the root and everything else is the fruit. Everything else, so all of the music we listen to today has, somewhere, a bit of Blues and inspiration from the pioneering Blues. Of course the social and cultural aspect of the Blues touched me. The mixtures of African inspirations, and of all types in the southern United States, then the history of the US migrations from Mississippi to Chicago, then the evolutions of Blues from the West Coast to London, and finally from Woodstock to all the variations of Rock and Pop that exist today. So here, in particular, the music of Jimi Hendrix has been an upheaval in the approach to the instrument that is the guitar and its possibilities of expression. And my encounter with the music of Muddy Waters, Robert Johnson, Buddy Guy and Hownlin 'Wolf made me fall into a spiral of Blues and musical feelings that I have never come out of!
I hear the Blues in the solos of Randy Rhoads, Slash, and Zakk Wylde, there is Blues in what Avicii, Daft Punk and C2C do, and I don't go through a major festival of metal or current music without hearing here or there a Blues track. There, I'll stop there or we're off for a conference. But honestly, listen to Muddy Waters! Listen to John Lee Hooker, and listen to Robert Johnson!
Q: We see you on stage with your Queen T., a beautiful ES-345 from the Custom Shop but I think you used several guitars on the album: how did you choose to have its sounds so different?
Jerry T.: The choice of an instrument and the relationship to a guitar is really special. Personally, all of my guitars have a story. I do everything I can to ensure that the script never corresponds to: "I ordered it from a German e-commerce site, I received it two days later and it has been my favorite ever since". No, a guitar is an adventure, it has to be tested, it has to be felt, and its acquisition can be a far-fetched story that already adds a background to the guitar without even having played it. I'll go to the end of the world to get a guitar with soul and a story of its own. I've been lucky enough to be able to travel, and test guitars that match "Bluesman" and musician tones. I made a Stratocaster with the French Luthier Xavier Petit, who has since passed away. I had selected all the electronics, pickups, woods etc. This is a great guitar full of nuances with its single coils for the Blues and up to Hendrixian sounds. This guitar is recorded on "Won't Forget About Me" which plays with the codes of the classic Chicago Shuffle, so a well indicated title for a suitable guitar.
I have a Les Paul that I brought back after a full afternoon of Gibson Les Paul testing at Sam Ash in Nashville, it's a Gary Moore signature, whose Burst Bucker Pro I let explode on more Blues tracks Rock like "Crossroads" and "You're Gonna Change". I have an ST1200 which is older than me! It's a Japanese Ibanez, with Super 70 ceramic pickups, double neck, with a 6-string neck that sounds Heavy 80's in less than two, and a very nuanced 12-string neck that allows beautiful walks in electric format (No Stairway to Heaven!), This one is recorded on Time To Settle Down. I have a Danelectro from Chicago, which I didn't record on this album, a bluesy Flying V (with great Cecca Guitars pickups!) for shows etc …
And of course, Queen T., the superb ES-345 "Model Jerry T." which is an M2M (Made to Measure) by the Gibson Memphis factory before it closed. Simply the best instrument I've ever played. With its MHS (Memphis Historic Specs) Humbuckers which are truly exceptional on a Hollow Body. Flexibility in the game, sensitivity in every way, a tone control that really comes into play, a volume knob that changes the world in which you move, and bite when you attack. A perfect guitar for the musician that I am. In short, each guitar can correspond to "functions", types of sounds to explore, and types of moods that suit them. Then, sometimes a little transgression of the codes and pushing the instruments into unknown valleys gives nice surprises. In any case yes, the choice of instruments is important from my point of view, and, as I said in the intro of this question, it also helps to anchor the history of the guitar in itself.
Q: The album "Where is the meat? "Will be released on June 4 in record stores and will be available for streaming on all platforms. What are the plans following this album release? Any scheduled dates?
Jerry T.: We are counting on it! We do not hide that we live misses the contact with people obviously. All musicians currently share this. On June 4th, we will try to do a small digital event. Then we obviously want to find the public in concert as soon as possible! No concerts planned for the moment, but we are working on it, we are trying to extricate ourselves from "we will make a contract if the date is maintained", and now that the deconfinement is organized, maybe our opportunities for live and promote our album and our show will take shape on their own! We are working on it anyway, and we are keen to be able to defend our music on stage.
Q : « Where is the meat? » est une chanson de l'album et le nom de l'album. Peux-tu nous en dire plus sur ce titre et le choix de le mettre en avant ?
Jerry T.: Ahah Where is the Meat! Where's the Meat? With the band, we chose this title for the album because it represented our state of mind. The Alligators are hungry! We must feed them! As a slightly dirty Bluesman, that aspect of feeding the Alligators can be a bit subversive, jack, meat and good company, but also, the Black Alligators are hungry for live! Concerts, stage presence and energetic shows! We're really hungry for that, and the album is a good opportunity to shout it out loud.
Finally, the title of the song "Where is the Meat?" in itself has nothing to do with any of this. It's more a questioning of our relationship to what we put on our plate, from an ecological and philosophical point of view, with a lot of English puns around the meal and the fact that our planet is always neglected in the story. We don't pretend to carry an ecological message, especially not me, but the song itself just asks questions like this, and does so in a fuzzy, almost 60's vibe.
Q: I think you have other activities besides the band but still related to music, do you want to tell us about it?
Jerry T.: Yes, everything related to the culture of the Blues is important to bring to life in my eyes. I am involved in several national associations. I also write for Blues Mag magazine, I interview artists there, and I help promote the work of French and international Blues musicians.
Journalism, photography & writing
I am also a photographer, I have an exhibition underway at La Traverse, entitled "Blues in Head Poster" which presents the artists on the stages of French venues and festivals.
And finally, I am the author of a book called "Stories of the Blues" which is a collection of the deepest and most extensive interviews that I have had the opportunity to do with several internet and print media. The Book is published by Camion Blanc and will be available in June, shortly after the album's release. I am very proud of it and I find that the artists who are there really deserve to be seen and heard on stage or elsewhere! A good part of the French, Gaelle Buswel in the lead, Jessie Lee & the Alchemists, Ronan Onemanband, Fred Chapelier are there. And also some international headliners, Billy Gibbons, Walter Trout, Eric Gales, Samanta Fish, Poppa Chubby as many artists who largely deserve to be able to share their vision of the Blues and who deserve your interest if you are curious about this music from the Blues and Rock! See you on June 20 with the book's release for all the details!
Thanks Anthony for your questions, it's a pleasure to share this with you.