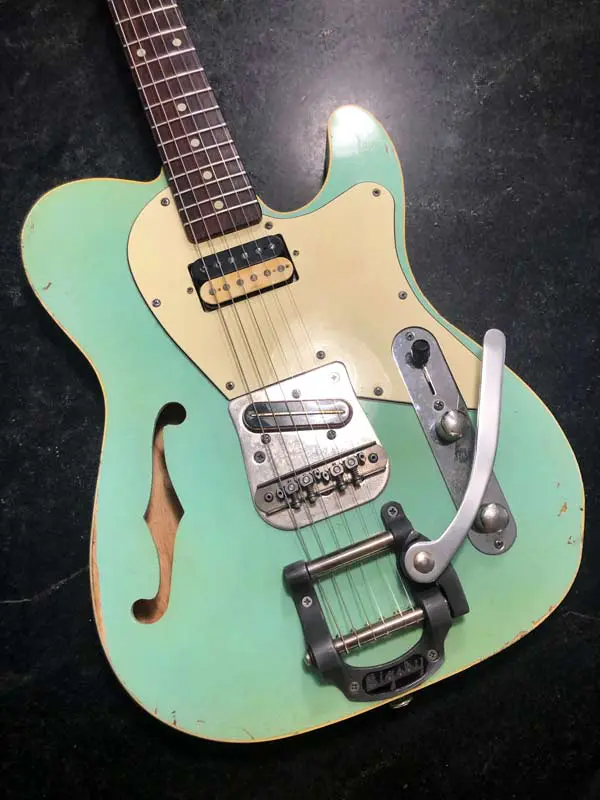 A few weeks ago, I made the acquaintance of Steve Marlowe thanks to a simple email from my site. (Steve has nothing to do with Philip, played on screen by Humphrey Bogart: he's the founder of TonalityTools studios in Phoenix, Arizona. He's also a producer and Senior Sound Engineer there).
After an initial contact, he told me the story of the Les Paul "Benchmark" that Gibson's Custom Shop released in dribs and drabs in 2013 and 2014.
At the end of 2019, the Custom Shop still had a small box of 2014's pickups sitting on a shelf. So, in 2020, five more Benchmark Les Pauls were specially commissioned to use these latest pickups Custombucker special underwound ... Five unique Les Paul 58s (R8s), each with a '59 neck profile and slightly wavy top were custom produced: the "Benchmarks".
The pickups are Custombuckers, but slightly underwound, and slightly parafin. They use Alnico3 magnets, as do all Custombuckers.
The sound is extremely musical, with a presence and clarity not typical of normal Custombuckers, which are however pickups fabulous in their register.
Steve was lucky enough to pick up two of the new Les Pauls "Benchmarks" from the special 2020 series with these rare pickups - one for his studio and one for a sister studio in Scottsdale, Arizona.
As a result, he became familiar with the sound and responsiveness of these pickups Custombucker underwound, and was able to compare them directly with several other Custombucker-equipped guitars recently acquired from the Custom Shop.
Once again, the sub-coiled pickup used in these "Benchmark" guitars is a PAF Alnico 3, but unlike the Custombuckers, they are slightly less coiled. This gives them exceptional richness, dynamics, musicality and openness.
A stunning comeback
And that's where the meeting happened: Steve was looking for a microphone equivalent to this Les Paul "Benchmark" from the various boutique mic manufacturers, when he came across the Cecca Guitars website and contacted me.
Steve told me all about these Les Pauls and their pickups, and how, thanks to Raimbow Guitars in Tucson, he came into possession of one of these guitars. So he asked me to make a neck pickup Delta Rootsneck pickup, equivalent to the PAF of the Les Paul Benchmark, for one of his studio guitars, a Telecaster from Dutch manufacturer Haar Guitars.
It was done (I couldn't miss my chance 🙂 ) and a few days after receiving the pickup and its installation, Steve gave me this amazing feedback, for me, a small French winder:
"We've spent a lot of time playing with the new pickup you so kindly provided.

It has been "burning in" - the pickups sound significantly better after playing for a while, after the current has passed through the wire and magnets.

So far, we're really impressed.

As you know, we have many Gibsons. Some have CustomBuckers as well as underwound versions.

Your pickup sounds more musical, expressive and pleasant.

It's pretty amazing because we get a lot of pickups and honestly, we're rarely impressed."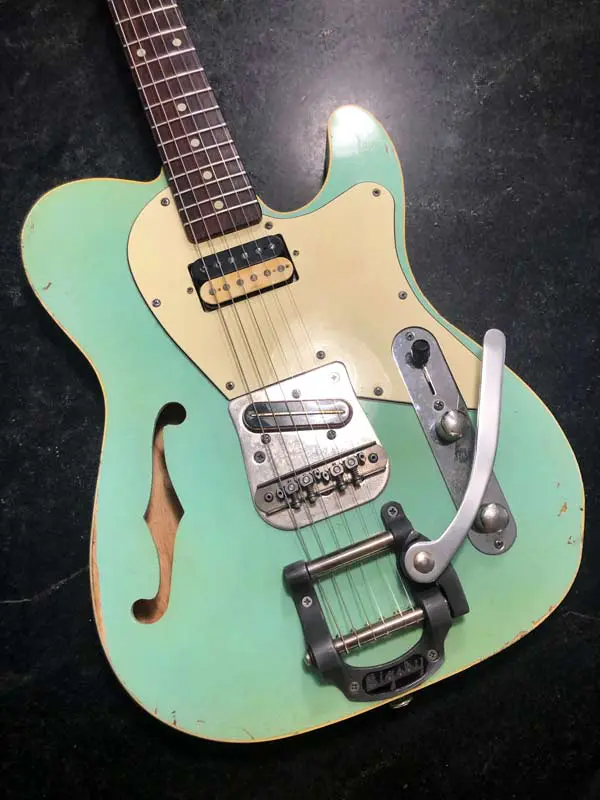 The start of a collaboration
Since that first realization for Steve, I've also made him a humbucker set for a Johnny A from his Studio - a rare prototype from the Gibson Custom Shop. It's currently receiving its upgrades and I'm sure Steve will share the results with us!
In addition, Steve asked me to produce a Nocaster set as nuanced, dynamic and expressive as possible, based on a very unique Nocaster, also from the Studio's collection.
It's extremely exciting to be developing this new Nocaster / Telecaster set, and you'll find it in our store as soon as it's been approved by Steve.
About TonalityTools Studios and Steve Marlowe
Steve Marlowe founded TonalityTools Studios in Phoenix, Arizona in 2005, after years of working with numerous artists as a recording engineer. His mixing and mastering skills, as well as his influences as a guitarist, know no boundaries: Jazz, Reggae, Hip Hop, Pop, Indie Rock... He has produced, recorded and mixed some of the biggest names in music all over the world.
Steve is also a guitar expert and collector. As such, TonalityTools Studios has a wonderful collection of instruments for all genres and styles, as well as amps. He showed me some pretty incredible ones! ... Including a prototype Jimi Hendrix Stratocaster from the Custom Shop, built and signed by John English and John Page (Masterbuilts at Fender Customshop in Corona California - Fender's headquarters are in Scottsdale, a stone's throw from the Studio).
Steve has based his work on the faithful reproduction of music, whether live or recorded. He has developed a unique treatment, called Bit Density Processing, which allows you to get as close as possible to the reality and musicality of analog recordings, while enjoying all the advantages of digital production. Thanks to this technology, he has remastered and digitized numerous releases, including historic jazz.
Read more :
TonalityTools Studios & Steve Marlowe
My warmest thanks to Steve for allowing me to share his story, his comments and his help in editing the English version of the text.