Burst Origin – Jerry T. signature – PAF 59 Alnico 3 Humbucker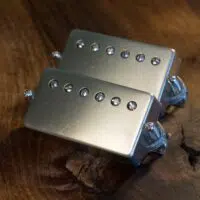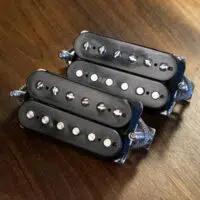 Burst Origin – Jerry T. signature – PAF 59 Alnico 3 Humbucker
The "Burst Origin"TM is the Cecca Guitars creation that comes closest to the PAFs of the late 50s. Both powerful and round, precise and singing, this set of PAF 59 humbuckers will transform any guitar into a Goddess Blues/Rock and Classic Rock giving it a sound worthy of the greatest guitarists of the 60's and 70's.
Custom Pickups, Electric guitar pickups, Humbucker pickups

This new collection of PAF Humbucker pickups are replica pickups as they were made in the 50's and 60's. Parts are imported from the USA to ensure traceability, vintage accuracy and excellent build quality.

279,00

€

– 299,00

€

Electric guitar pickups, Humbucker pickups

Our Custom Bucker is a replica of the pickup of the same name, fitted to Gibson's Custom Shop models. Equipped with an Alnico 3 magnet and a muscular coil for a PAF, it has a strong vintage character and an excellent dynamic. This is an ideal pickup for Jazz, Memphis Blues, British Blues, Hard Blues, Classic Rock, Southern Rock and Hard Rock. Configurable according to your wishes

139,00

€

– 335,00

€
BURST ORIGINTM test by Jerry T. on an AC15 VOX. He plays with the guitar volume from 3 to 10 on every pickup combinaison.
After several years of mic winding, I wanted to make the most faithful possible version of the PAF humbucker as it was made in the 50s. The sound is powerful without being aggressive. It is very round and warm in its clear. The crunch grabs your guts and as long as you turn up the gain, the typical grain of the alnico 3, hoarse as you wish, will come out wonderfully. Whether you are a fan of Fender Black Face, an AC 30 or Marshall grain you will get the typical sound of the PAF of the 50s. Are you looking for the sound of the origins? Look no further, you've found it: Burst Origin
A Jerry T. signature pickup
This kind of pickup is not a model like the others. It therefore seemed important to us to associate ourselves with an artist imbued with the sound of the 50s, an emeritus guitarist: Jerry T. lead singer and guitarist of Jerry T. and the Black Alligators. Jerry and I have been working together since the very beginning of the Cecca Guitars adventure, so it was only natural that this "signature" was put in place.
A few word of Jerry
"The Burst Origin Signatures transcribe the feeling of the player as much as the quality of the guitar's lutherie. Rich in harmonics and warm, the pickups are excellent in distortion and allow a unique sustain. The 59's burst sound is here! »
Neck, bridge or 2 pickups set
Rough cast Alnico 3 magnet
Plain Enamel 42 AWG Elecktrisola Wire
Long leg Nickel/Silver Baseplate
1010 Steel Screws and slugs, nickel platted or Gold platted
Butyrate bobbins – Black or Cream
DCR : neck ~8.2 kohms – Bridge ~8.7 kohms
E to E spacing 49.2mm (Gibson Vintage)
Unpotted
2 screws and 2 springs per pickup
Cable length 35/38cm
Vintage braided 2 conductors cable
Cover: Raw Nickel/Silver, Nickel platted, Gold & Relic cover in option
---
Our clients talk about it
It's a complete success!! Thank you very much for your work, the pickups are ideally at the top of what I was looking for in terms of sound: precise, lime, powerful, defined, round and shiny at the same time, it's only happiness!!

After a few months of playing I was able to see some of their potential in both clear and saturated. I say "a part" because I re-discover them a little every day. Associated with my configuration of amps and effects they give the ideal colors to my sound and have redefined my game, I am really very satisfied with this investment, my guitar has taken on additional value in my eyes thanks to this high level upgrade. aerobatics!!
The quality of your work and the pursuit of the best sound with the best elements really comes together in this setup, it's ideal for me and my band also loves my new sound, we have gained comfort and definition in our sound in general .

In short, I am very happy and congratulate you and thank you again for your quality work.

Yves, Custom Bucker, Skinner Burst option

High quality and handcrafted pickups. A craftsman who listens and provides good advice. It's really perfect, it's Cecca that I would call on from now on for any pickup changes on my guitars. A big thank you.
---
Music styles
Blues, Jazz, Classic Rock, Hard rock, Jazz, Pop, Rock, Rock progressif, Desert Rock
---